It's more important than ever to take advantage of the Internet to grow your retail store online. With the flexibility and universality of e-commerce and online storefronts, even if your brick and mortar doors are closed, you can continue to serve your customers and build a more resilient business.
But it's more than that: launching an online storefront opens the door for the digital expansion of your brand. It shows that you have your customer's experiences and needs first in mind, as you're able to meet your customers where they are.
22% Of global retail sales will take place online by 2023
If you can establish a process to effectively sell online, you and your customers will both benefit. Efficacy, however, is the name of the game: you need to select the right tools and platforms to ease online ordering and delivery without taking up too much of your valuable time.
In this step-by-step guide, we will show you exactly how to launch your online store. We'll start by looking at why it's so important, before walking you through a roadmap to make you a successful e-commerce entrepreneur.
This guide is part of a series on online business and digital transformation.
Our objective is to help business owners transform their brick and mortar business to sell online with a roadmap to launch, the right questions to ask, and case studies to find inspiring success stories.
We also want to help anyone start an online business today by explaining how you can make money online, sharing ideas and inspiration, and talking you through a step by step guide to launch your online business.
                                                                                                             
Why is it important to offer an online delivery option to your store
E-commerce is growing rapidly. Recent research estimates that ecommerce will make up more than 22 percent of all worldwide retail sales by 2023. That number will be even higher in developed economies in North America, Europe, and Asia.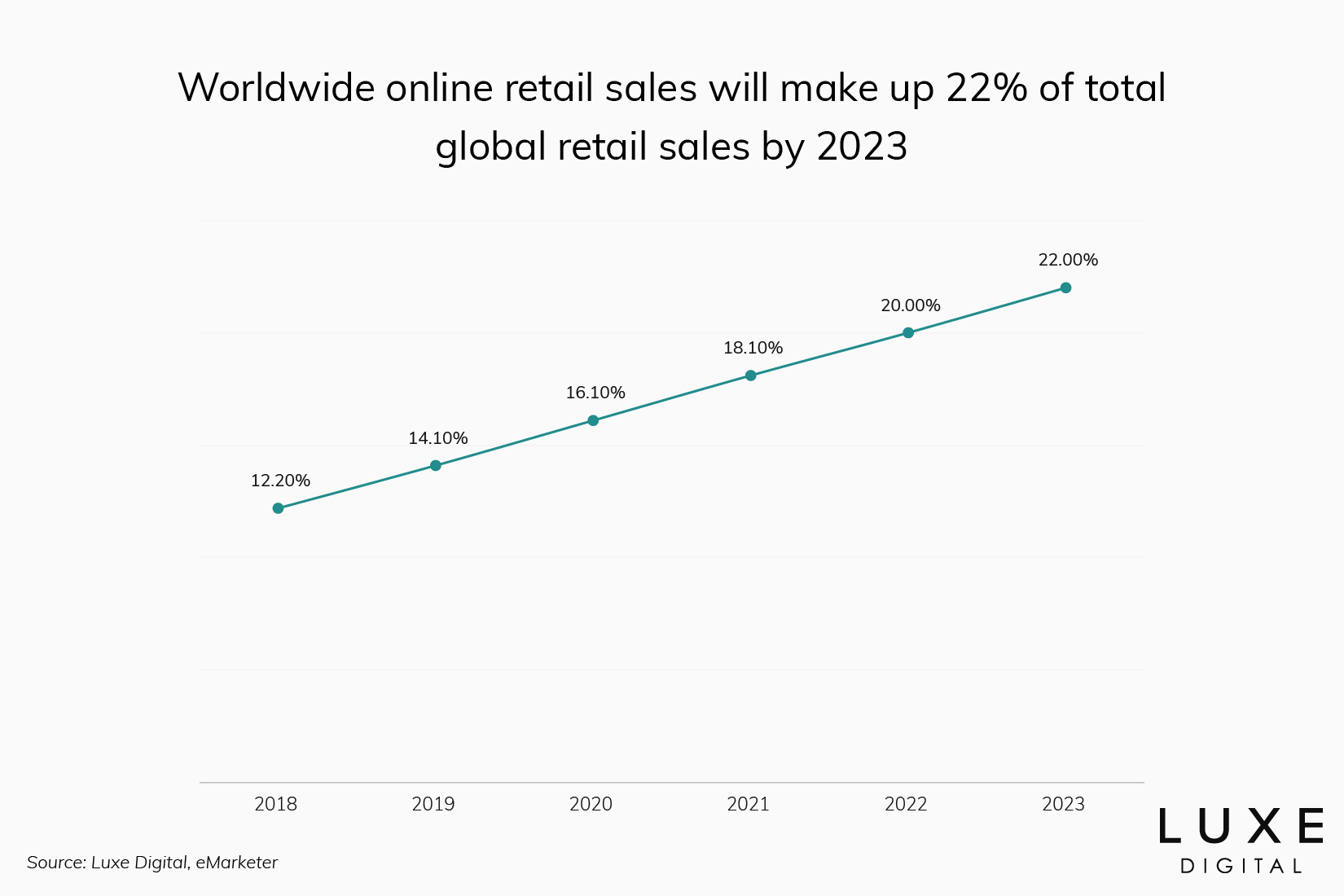 Offering an online ordering option is more than just good for business. It's good for your customers too.
With an online storefront, you'll be able to pass on savings to your customers due to your reduced necessity for on-site personnel and real estate costs. As an added benefit, you'll also be available to your customers 24/7/365 — accessibility which your worldwide audience will surely appreciate.
With the growing options available in e-commerce, your brick-and-mortar can overcome geographical limitations and gain new customers through the right online marketing strategy.
Establishing a strong e-commerce foundation for the next phase of your business is a simple yet impactful way to power your brand and grow your revenue. Simplicity, however, does not mean ease!
Next, we'll discuss just how to make that happen.
How to take your retail store online
To get started with e-commerce, you need to find a way to start accepting online orders—and a way to fulfill those orders by delivering the requested goods or services to your customers.
Finding the right tools and platforms for your venture can be overwhelming. Fortunately, we've done much of the work for you—you'll find in this guide our practical recommendations for e-commerce marketing, logistics, ordering and fulfillment.
We'll also walk you through the three stages of a successful e-commerce launch to ensure that you have all of the information you need:
Planning: What to consider before you begin accepting online orders
Launch: Get your retail store online
Growth: Improve your digital customer experience
1. Planning: What to consider before you begin accepting online orders
Most e-commerce failures are due to poor planning. Taking the time now to put together a business plan is a necessary step that will have incredible benefits; you'll thank yourself later.
A good plan will include time for you to assess the market potential and properly price your products. It will identify opportunities for developing your brand and allow you to prepare for challenges during your launch.
Our team put together a roadmap to help you brainstorm a plan for your online business launch. As you begin to put together your e-commerce playbook, start by asking yourself these three crucial questions.
1. How will you accept orders?
You have two options for accepting orders online: managing them through a website or app that you own, or entrusting your ordering system to a third-party platform. Let's walk through the benefits and disadvantages of each option.
Hosting and managing your own ecommerce: The first option is cheaper but more time-consuming and technical. It's more work upfront, which will cost you in time and headspace; but, as you won't have to pay a third party a monthly fee for processing orders, this choice may lower your costs over the long run.
If you prefer a DIY option for order management, there are several good tools at your disposal. Our preferred option is to launch a WordPress website with the extensive WooCommerce suite of plugins and add-ons to run your entire online store.
Working with a Third-Party Ordering System: alternatively, you can select to pay a monthly fee to use an existing solution that's built from the ground up to make it easier to start selling online. This will dramatically speed up the launch of your online store. You will have to pay a higher monthly fee, however.
Shopify is our recommended solution for online retailers. It's the most popular ecommerce platform on the market, used by the majority of digital-native direct-to-consumer brands. The platform comes with a large number of themes to choose from. You also have access to a broad range of plugins to enhance your online store and connect it to whatever other tools you're using to manage inventory or deliveries, for example.
Pro tip: Shopify offers a two-week free trial if you'd like to try before you buy.
2. How will you deliver the orders?
Once the orders start coming in, you have to figure out how to fulfill and deliver them. You can do this personally, order by order, envelope by envelope—or you can work with a third-party system for online order fulfillment, taking a large part of your business off your hands.
However you plan it, shipping is a key part of your business, so it's definitely a priority. Let's discuss your options:
Managing Delivery Yourself: Processing and shipping logistics can be complex, but if you break it down, it's more easily manageable. You will need to begin by setting shipping rates and methods for your customers. For example, will you offer free shipping as an incentive, or will you charge a flat rate for shipping?
After you manage your shipping options, you'll have to consider your packaging and marketing strategy. The customer unboxing and unwrapping experience is often valued nearly as much as the product itself—or, at the very least, interesting or high-quality packaging materials can set you apart from the competition. However, investing in branded or luxurious packing materials will be costly, so this is a decision you'll have to make with your business in mind.
Lastly, you'll have to determine the radius of your delivery zone—whether you'll be able to deliver locally, domestically, or internationally. If you're managing the delivery system yourself, you can make these choices, but if you're working with a fulfillment center you will have to abide by their rules.
As you can see, there are at least four steps and options to consider when managing shipping and delivery!
Working with a third-party order processing and shipping platform: Alternatively, you can work with a vendor to take care of all that for you. It will save you stress and ensure that your customers receive their products in a timely fashion. Our recommendation for order fulfilment and product shipping is Fulfillrite integrated with Shopify.
With Fulfillrite, your products will be picked up, packed, and shipped straight to your customers; it'll all be taken care of for you expertly, and efficiently. They'll also manage returns—and the service integrates seamlessly with Shopify, if that is your e-commerce platform of choice.